Vegan Pumpkin Tart With Pecan Crust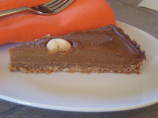 Photo by magpie diner
Prep Time: 30 mins
Total Time: 4 hrs 30 mins
Servings: 8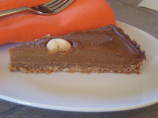 Photo by magpie diner
About This Recipe
"A tart with the traditional pumpkin smells and tastes but with a distinctive vegan touch! This recipe was adapted from a popular weight loss tracking website's newsletter."
Ingredients
3/4 cup pecan halves

3/4 cup rolled oats

3/4 cup whole wheat pastry flour

1/2 teaspoon ground cinnamon

1 pinch salt

1/4 cup canola oil ( save calories and fat by using applesauce instead)

3 tablespoons real maple syrup

1 cup soymilk

1/4 cup arrowroot or 1/4 cup cornstarch

1 (15 ounce) cans pumpkin puree

1/2 cup real maple syrup

1 tablespoon ginger, grated fresh

1 1/2 teaspoons ground cinnamon

1/2 teaspoon salt

1/4 teaspoon nutmeg, freshly grated

1/8 teaspoon ground cloves
Directions
Preheat oven to 375 degrees F. Spray a 9 inch pie plate with cooking spray, set aside. On a baking sheet, spread the nuts and toast on the middle rack of the oven for 7-10 minutes or until the smell of nuts fills your kitchen. Reserve 16 pecan halves for the garnish.

In the food processor bowl, combine oats, flour, remaining pecans, 1/2 teaspoons cinnamon, and a pinch of salt. Pulse mixture until it becomes a coarse meal texture. In a medium bowl whisk together oil and 3 tbls. maple syrup, add dry mixture and work together until a soft dough is formed. Press mixture into the pie plate, crimp the edges, and bake for 10 minutes. Set aside to cool.

Rinse out food processor bowl. Add soymilk and arrowroot and blend until arrowroot is completey dissolved and mixture is smooth, approximately 15 seconds. When smooth add pumpkin, 1/2 cup maple syrup, ginger, 1 1/2 tsp cinnamon, 1/2 tsp salt, nutmeg, and cloves. Blend until smooth, pour filling into cooled pie crust and smooth top.

Bake for approximately 35 minutes, or until crust is lightly browned and the outside inch of filling is set. Do not worry if the center is still soft, it will firm up as the pie cools. Transfer pie to a wire rack. Using the 16 reserved pecan halves, gently press them into the hot filling in 2 circles. Cool to room temperature then chill until set, about 3 hours. Serve chilled or at room temperature. NOTE: Cooking time includes chill time.