Baked Cheesy Eggs With Leeks and Tarragon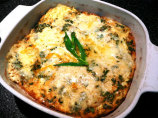 Photo by Outta Here
Prep Time: 10 mins
Total Time: 45 mins
Servings: 10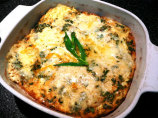 Photo by Outta Here
About This Recipe
"A nice dish for a brunch. It's important to use fresh (not dried) tarragon."
Ingredients
4 tablespoons butter

2 large leeks, washed and sliced, white and light green parts

1 1/2 cups shredded havarti cheese, DIVIDED ( or Gruyere or Swiss)

1/2 cup shredded parmesan cheese

8 eggs

1 1/2 cups heavy cream

3 tablespoons chopped fresh tarragon

1/4-1/2 teaspoon salt

1/4 teaspoon pepper

1/8 teaspoon paprika
Directions
Preheat the oven to 375°. Lightly grease/spray a 13x9-inch baking dish.

In a skillet over medium heat, melt the butter; sauté the chopped leeks until they are tender. Place sautéed leeks into the bottom of the prepared baking dish.

Evenly sprinkle 1 cup ONLY of Havarti and the parmesan cheese over the leeks.

In a mixing bowl, combine the eggs, cream, tarragon, salt, pepper and paprika; whisk until well beaten.

Pour the egg mixture into the baking dish over the cheese layer.

Bake at 375° for 30 minutes or until set and lightly browned.

Sprinkle with remaining 1/2 cup Havarti and bake an additional 5 minutes or until cheese is melted.