Spinach and Mushroom Enchiladas With Cilantro Cream Sauce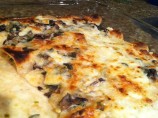 Photo by sugrmag78
Prep Time: 15 mins
Total Time: 35 mins
Servings: 6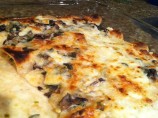 Photo by sugrmag78
About This Recipe
"I LOVE these spinach enchiladas. They are just like the ones served at one of my fave restaurants! If you like spinach, you will love these. If you don't like spinach- you will probably find that this recipe changes your mind. (Altered recipe after reviews regarding the saltiness and amount of sauce. I have not had that problem, but do not want anyone to have a bad result. Please do try this and enjoy it.)"
Ingredients
12 corn tortillas or 12 flour tortillas

1 1/2 cups monterey jack cheese, shredded

1 tablespoon butter

1 small onion, minced

2 garlic cloves, minced

1 lb mushroom, chopped

1/4 cup white wine

12 ounces fresh spinach, washed, drained and coarsely chopped

Sauce

1/4 cup lime juice or 1/4 cup wine

3/4 cup water

season salt, to taste ( reduced to 1 t from 1 T and it was still considered salty please adjust to your taste or leave out a) (optional)

1 tablespoon chicken bouillon granule

1 tablespoon garlic powder

1/2 cup cilantro, chopped, use the amount that suits your taste

1 cup sour cream
Directions
Filling: Heat butter in a large skillet over medium heat and saute onions, garlic and mushrooms until soft and liquid has evaporated, about 5 to 7 minutes.

Remove half of the mushroom mixture and set aside, reserving for the sauce.

Add wine and cook for 2 minutes more.

Add spinach and cook until spinach is wilted and liquid has evaporated. Taste and add salt or season salt to taste IF NEEDED.

Sauce: In a small sauce pan combine water, wine/juice, seasoned salt, chicken bouillon and garlic powder. Stir to dissolve before adding reserved mushroom mixture, sour cream and cilantro. Reduce heat to simmer until sauce just begins to thicken.

Preheat oven to 350°F

Wrap tortillas in paper towels and heat in microwave for a minute or so just to soften them.

Divide filling evenly among the warm tortillas, fill and roll and place them seam side down in a greased 9x13 pan.

Pour sauce over enchiladas, top with shredded cheese and bake 10-15 minutes- just until cheese is melted- browned if you like- and the entire dish has heated through.