Pumpkin Chocolate Chip Muffins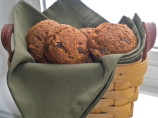 Photo by Jocelyn Villalon
Prep Time: 10 mins
Total Time: 45 mins
Serves: 12, Yield: 12 muffins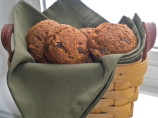 Photo by Jocelyn Villalon
About This Recipe
"These muffins are my favorite! They are also relatively healthy, made with whole wheat flour. They can be made vegan by replacing the chocolate chips with carob chips. I adapted this recipe from the Vegan Lunch Box web site"
Ingredients
1 cup canned pumpkin

1/2 cup water

1/4 cup canola oil

2 tablespoons ground flax seeds

1 teaspoon vanilla

1 cup whole wheat flour

2/3 cup whole wheat pastry flour

1 cup sugar

1 teaspoon baking powder

1/2 teaspoon baking soda

1/2 teaspoon salt

1/2 teaspoon cinnamon

1/4 teaspoon nutmeg

1/3 cup chocolate chips or 1/3 cup carob chips

1/2 cup walnuts or 1/2 cup pecans, chopped
Directions
Preheat the oven to 350º. Spray a nonstick muffin tin sprayed well with nonstick spray, or line the tin with paper muffin cups and spray the cups with nonstick spray. Set aside.

Put the pumpkin, water, canola oil, ground flax seed, and vanilla in a blender and process on high for at least one minute, until light in color and well-blended. Set aside.

In a large mixing bowl, whisk together the whole wheat pastry flour, sugar, baking powder, baking soda, kosher salt, cinnamon, and nutmeg. Add the pumpkin mixture and mix well with a wooden spoon or large spatula until well-blended. If the mixture seems a little dry, add extra water. Fold in the chocolate chips or carob chips and nuts.

Spoon the batter into the muffin tin, distributing evenly to make 12 muffins. Sprinkle the top of each muffin with sugar, if desired.

Bake for 30-35 minutes, until a cake tested inserted into the center of a muffin comes out clean. Let cool for 5 minutes in the pan, then use a spatula to gently lift each muffin from the muffin tin. Finish cooling on a wire rack.