New Potato and Mince Curry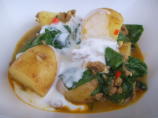 Photo by tigerduck
Prep Time: 20 mins
Total Time: 1 hr
Servings: 2-4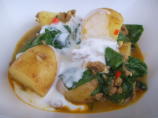 Photo by tigerduck
About This Recipe
"A firm favourite. The original recipe (GOOD FOOD April 2000) says it serves 4. However, it serves myself only twice. Ok, I'm a pig... The addition of flour comes from me - it helps to fry the minced meat nicer and to bind the liquid slightly. I've also made a few other minor changes to the original recipe."
Ingredients
1 lb lean ground beef (450g, I often use less) or 1 lb lamb ( 450g, I often use less)

1 tablespoon flour

1 small onion, chopped

3 garlic cloves, finely chopped

1 tablespoon coarsely grated fresh ginger

1 fresh red chili pepper, seeded and finely chopped ( or a few chilli flakes)

2 teaspoons ground cumin

2 teaspoons ground coriander

1 -1 1/2 tablespoon korma curry paste

500 g new potatoes, in skins washed and quartered ( 1 lb and 2 oz)

4 ounces fresh spinach leaves, thick stems removed, leaves torn if large ( 100g)

150 ml plain yogurt or 150 ml Greek yogurt

chapati or naan bread, to serve
Directions
Dry the mince thoroughly with kitchen paper. Dust it with the flour and mix well.

Heat a frying pan and add the mince. Brown it all over, stirring to break it up. Remove from pan and set aside. Add oil and onion to the pan and cook on a medium heat for 5 minutes.

Stir in the garlic, spices and curry paste. Stir fry for 1 minute. Add the mince, potatoes and 600ml/1pint water, bring to the boil and cover if desired. I personally like to cook it uncovered. Simmer for 30 minutes or until potatoes are cooked. Season with salt to taste.

Stir in the spinach and simmer for 1 minute, uncovered, until wilted. Ladle into bowls, top with the yogurt and serve with Indian bread.