Corn and Garbanzo Bean Patties (Vegan)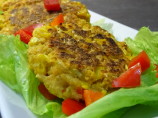 Photo by Wish I Could Cook
Prep Time: 0 mins
Total Time: 8 mins
Servings: 6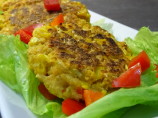 Photo by Wish I Could Cook
About This Recipe
"From Delicious Living Magazine. Very healthy! Can be served alone or on a multigrain bun."
Ingredients
Patties

1 teaspoon canola oil

1 tablespoon canola oil

1 1/2 cups fresh corn kernels (thawed) or 1 1/2 cups frozen corn kernels ( thawed)

2 tablespoons shallots, chopped

1/2 teaspoon Greek oregano

2 teaspoons fresh Italian parsley, minced

1 (19 ounce) cans garbanzo beans, drained

1 cup fresh french breadcrumbs

2 tablespoons fine grain cornmeal or 2 tablespoons masa harina

1/2 teaspoon salt

2 tablespoons red bell peppers, minced

1 tablespoon polenta ( coarse cornmeal)

Dressing

1/4 cup fresh lemon juice

1/3 cup extra virgin olive oil

salt, to taste

fresh ground black pepper, to taste

Garnish

5 ounces arugula leaves or 5 ounces mixed greens, rinsed and drained well

fresh garlic chives, minced
Directions
PATTIES: Heat 1 teaspoon of the oil in a large non-stick pan over medium-high heat. Add the corn, shallots and oregano. Saute for about 3-4 minutes. Cool slightly, and stir in the fresh parsley. Alternatively, you can oven roast the corn and shallots if you prefer.

In a food processor or blender, combine the garbanzo beans, French bread crumbs, cornmeal, salt, red bell pepper and 2 tablespoons of the reserved garbanzo bean liquid. Pulse ingredients until chunky. Add the corn and shallot mixture, another tablespoon or so of liquid and pulse quickly, about 10 times. Do not overprocess.

With wet hands, form the garbanzo mixture into 6 equal sized patties, approximately 1/2" thick. Place the polenta on a piece of wax paper and dredge the patties until coated on both sides.

Heat remaining 1 tablespoon of oil in the skillet over medium-high heat.

Cook only 3 patties at a time; do not crowd. Cook the patties about 5 minutes on each side or until golden brown. Repeat with the other patties. Transfer to a warming tray until ready to serve.

DRESSING: In a small, non-reactive bowl, combine the fresh lemon juice with the olive oil. Season the mixture with salt and pepper to taste.

Toss half of the lemon/olive oil mixture lightly with the arugula (or mixed greens).

Divide and place the arugula leaves on 6 individual salad plates. Top the arugula with the cooked patties.

Garnish with fresh chives and serve hot. Season lightly with salt. Serve remaining dressing on side.