Fruit-Filled Dessert Quesadillas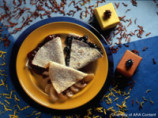 Photo by Food.com *
Prep Time: 10 mins
Total Time: 14 mins
Servings: 5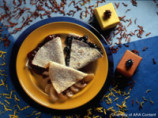 Photo by Food.com *
About This Recipe
"An interesting and easy dessert."
Ingredients
10 (10 inch) flour tortillas

2 teaspoons melted butter or 2 teaspoons melted margarine

confectioners' sugar or cinnamon sugar

1 (21 ounce) cans Comstock brand pie filling (any variety) or 1 (21 ounce) cans Wilderness brand pie filling ( any variety)

1 (12 ounce) containers soft low-fat cream cheese (optional)
Directions
Lightly brush one side of a tortilla with butter.

Spread the tortilla with a thin layer of cream cheese, if desired.

Spread about 1/4 cup pie filling on one-half of the tortilla, then fold the tortilla in half, pressing slightly to seal the edges.

In a large skillet on medium-low heat, cook the tortilla until lightly browned (about 4 min.); turn and brown the other side.

To serve, dust with confectioners' sugar or cinnamon-sugar.

Each quesadilla may be served whole or cut into 3-4 wedges before serving.

Serve hot.