Country Captain for the Slow-Cooker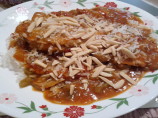 Photo by Marcasite Queen
Prep Time: 25 mins
Total Time: 5 hrs 25 mins
Servings: 6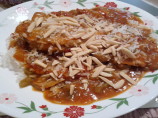 Photo by Marcasite Queen
About This Recipe
"This is the only recipe for Country Captain I've ever been truly happy with.It's for the slow-cooker, but there is more prep time to it than usual crockpot recipes. If you wish to make this, though, please don't skip any steps, as the subtle flavors combine to be so good. I adapted this from Cook's Country Magazine, (April, 2006). The dish has it's roots in India, and was carried to the Southern U.S. by British ship captains who sailed the spice routes in the 1700's. This is the way I made it, to my family's delight...and mine! I used my own Mango Chutney Laurel's Mango Chutney because I think it's better than Major Grey's, but you can substitute Major Grey's in a pinch. I hope you enjoy it as much as we did!"
Ingredients
8 chicken thighs, excess fat trimmed, with bone and skin

salt & pepper (I use Johnny's) or your favorite seasoning ( I use Johnny's)

1 tablespoon olive oil

2 onions, chopped coarse

1 green bell pepper, seeded and chopped coarse

1 (14 1/2 ounce) cans chicken broth

1 (14 1/2 ounce) cans diced tomatoes

1 (6 ounce) cans tomato paste

12 ounces mango chutney, Laurel's Mango Chutney OR

2 (9 ounce) jars bottled chutney, such as Major Grey's Cutney, large pieces of mango snipped

6 garlic cloves, minced

2 tablespoons Madras curry powder

1 1/2 teaspoons paprika

1 teaspoon dried thyme

1/2 teaspoon cayenne ( to taste)

shredded coconut ( for garnish)

toasted sliced almonds ( for garnish)
Directions
Heat oil in large skillet, season chicken and brown on both sides, about 10 minutes. Remove chicken to platter, let cool a bit, remove and discard skin. Put chicken in crockpot.

Pour off all but 1 Tablespoon fat and cook onions and bell pepper with about 1/2 teaspoon salt until somewhat tender, about 5 minutes.

Add broth, tomatoes and tomato paste and scrape up browned bits and cook and stir until slightly thickened and smooth, only about 3 minutes.

Remove from heat and add chutney, garlic, curry powder, thyme, paprika and cayenne.

Pour this mixture over chicken in crockpot.

Cover and cook on low 5 hours.

Stir before serving over white rice.

Add coconut and sliced almonds on top. This is necessary for the most authentic taste of Country Captain!