Spanish Style Chicken (Grilled With Raisin Wine Sauce)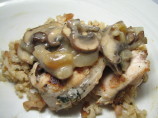 Photo by Mama2boys
Prep Time: 15 mins
Total Time: 35 mins
Servings: 4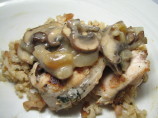 Photo by Mama2boys
About This Recipe
"I am looking to thin my collection of cookbooks over the next several months. To do so, I'm submitting all of the recipes I tabbed to try one day here for safe keeping. This particular dish comes from an indoor grilling cookbook and would also be suitable for outdoor cooking. It is a true departure from my usual preference for bolder spices, but is truly flavorful treatment of the bland chicken breast."
Ingredients
Raisin Wine Sauce

1 1/2 tablespoons olive oil

1 large white onion, chopped

1/2 lb mushroom, sliced

2 tablespoons all-purpose flour

3/4 cup dry white wine

3/4 cup fat free chicken broth

1 1/2 tablespoons lemon juice

2 bay leaves

1/4 teaspoon pepper

1/2 teaspoon thyme

1/2 cup raisins

1 teaspoon Worcestershire sauce

1 dash salt ( to taste)

Chicken
Directions
Heat oil in a medium saucepan. Add onions and mushrooms and sauté for 4 minutes, stirring occasionally so the vegetables soften without browning.

Stir in flour and continue cooking an additional 2 minutes.

Stir in the broth and wine and bring the mixture to a boil. Reduce to a simmer until it begins to thicken.

And add the lemon juice, bay leaves, pepper, thyme, salt and raisins. Simmer for 5 minutes. Remove bay leaves.

Mix together the olive oil, garlic, thyme and pepper so that it creates a paste. Cut chicken into ½ inch strips. Toss the chicken strips with the seasoning paste and grill about three minutes or so until cooked.

Serve chicken strips with sauce spooned on top. Goes well with rice.