Boursin Stuffed Chicken Breasts Easy!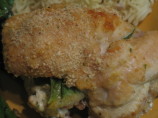 Photo by Redsie
Prep Time: 20 mins
Total Time: 96 hrs 20 mins
Servings: 2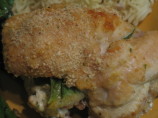 Photo by Redsie
About This Recipe
"Can be made ahead of time then baked and served. Make your own Boursin cheese or buy a commercial product. COOKS NOTES: You may want to double, this recipe is for 2. Also note the passive cooking time. That is to allow for boursin and chicken to set up."
Ingredients
1 boneless skinless chicken breast half

spinach or basil leaves, enough to cover each chicken breast

2 tablespoons walnuts, toasted and chopped finely

boursin cheese

1 ounce cream cheese, softened

1 garlic clove, minced

2 teaspoons fresh parsley, minced fine

2 teaspoons fresh chives, chopped fine

1 pinch cayenne pepper

1/8 teaspoon freshly cracked black peppercorns

1 pinch kosher salt

2 tablespoons fine breadcrumbs
Directions
Pound each chicken breast to 1/4" thick. This can be done ahead of time, covered and refrigerated.

In a pan of boiling water, quickly dip each spinach leaf or basil leaf; drain and set aside.

Mix the 8 ingredients together for the Boursin cheese; add the walnuts to the cheese mixture, cover at room temperature for at least an hour to blend the flavors.

Lay the chicken breast flat, season each side with salt and pepper; add the spinach or basil leaves and spread the cheese-walnut mixture to cover each breast.

Starting at the shortest end of the chicken breast, roll up as tightly as possible and tuck in the ends to form a neat roll, transfer to a greased baking dish and place the chicken breast seam side down; sprinkle with bread crumbs and refrigerate at least 3 hours or over night.

Bake 350° degrees F. for approximately 30 to 35 minutes or until juices run clear. Let the chicken rest for 5 minutes; slice 1/2 inch thick and serve with a tomato rose and an asparagus and carrot ring garnish.