Cow Camp Pan Bread (R Hanging Lazy A) Robert H. Arps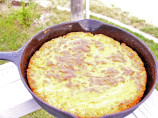 Photo by Montana Heart Song
Prep Time: 10 mins
Total Time: 20 mins
Servings: 8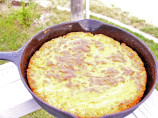 Photo by Montana Heart Song
About This Recipe
"While you are on the trail, you bring a baking mix with you, premixed to last the amount of days you are gone. All you have to add is the water. You fry in a cast iron pan with shortening or bacon grease. Oil is too hard to carry on horseback.You can make the mix X4 X6 X8.Store in air tight container or zip lock bags. Then just add water."
Ingredients
Baking mix

946.36 ml white flour

9.85 ml salt

29.57 ml baking powder

29.58 ml sugar or 29.58 ml Splenda sugar substitute

236.59 ml cornmeal

354.88 ml dry milk

4.92 ml savory salt

4.92 ml chili powder

236.59 ml lukewarm water, for each batch

14.79 ml water, if necessary at a time

29.58 ml shortening or 29.58 ml bacon grease, for each batch
Directions
You mix all of the dry ingredients together. Divide equally between two large ziplock bags. Now you have two batches.Take 1 tbsp mix and spread across a board.

Pour lukewarm water in the zip lock bag, a little at a time.

Close bag and knead, add a little more water, knead, add the rest of the water and knead.

Turn out on board and pat or roll until about 1/4 inch high to 1/2 inch high.Pat some mix on top of dough if it gets too sticky or plain flour.

Heat 2 tblsp. shortening or bacon grease in large cast iron frying pan over the heat, a grate over a campfire, a stove burner, or propane grill.

You can plop the entire circle in the hot pan if you don't want to cut wedges before it is cooked. Make sure you don't burn it on the bottom. Remember this makes two batches.

Cutting the wedges of dough first fries the wedges a little more and you have a more crispy texture on the sides and bottoms when flipped over.

On the trail, you would sharpen a stick, cut the circle in 8 to 10 wedges. Off the trail, use a knife or dental floss. Lift off with a spatula, fry 4 to 5 wedges at a time and flip over until lightly brown.

Note: Use 1/2 of each salt in the recipe if you want to use less salt or salt substitute.