Best Lima Beans You'll Ever Eat!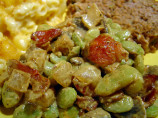 Photo by Sue Lau
Prep Time: 10 mins
Total Time: 25 mins
Serves: 8, Yield: 0.5 cups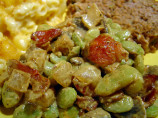 Photo by Sue Lau
About This Recipe
"I got this recipe yrs ago from a friend who served this dish at a dinner party & it got rave reviews. When you want to impress or convince a lima bean non-believer, this is the recipe for you. There are only a few lima bean recipes at this site compared to other veggies. This 1 is an easy to prepare stovetop-to-table dish & spectacular with any meat or chicken entree not combined with a cream sauce. Enjoy!"
Ingredients
3 cups frozen lima beans

6 slices bacon ( thick-sliced)

1 medium onion ( roughly diced)

6 large button mushrooms ( or 8 small)

2/3 cup low-fat sour cream

1 teaspoon curry powder ( more as desired)

seasoning salt ( to taste)
Directions
Cook frozen lima beans per pkg directions while following remaining steps & set aside.

Roughly dice the medium onion & set aside.

Cut each large mushroom in half from top down through any stem. Put the cut edge down on your cutting board & slice each half in approx 1/3 inch slices & set aside.

Cut bacon slices in 1/2 inch segments & fry in a non-stick skillet until crisp. If you have more than 2 tbsp of rendered bacon fat grease, remove the excess of that amount.

Add diced onion & sliced mushrooms to skillet & saute until onion is translucent. Do not overcook to carmelized state.

Add 1 tsp curry powder + low-fat sour cream & combine well.

Taste & add additional curry powder or seasoning salt to your preferences.

Remove skillet from heat, add cooked lima beans, mix well & serve immediately.

Note: My advice is to plan for 2nd helpings. You'll need them!