Curried Chicken in Coconut - Pumpkin Sauce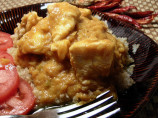 Photo by justcallmetoni
Prep Time: 15 mins
Total Time: 35 mins
Servings: 4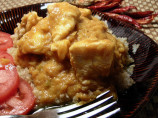 Photo by justcallmetoni
About This Recipe
"Created for RSC 8. This is a delicious curry – hot, salty-sweet, subtle, creamy, easy to make and fast – it's really got it all! If you're short on time and ambition, you could use canned pumpkin and coconut milk. This makes lots of sauce to be soaked up in rice served alongside. I also made up what I believe to be the 'perfect' rice to accompany this wonderful curry. Please try Coconut-Raisin Rice Pilaf Coconut-Raisin Rice Pilaf, and I'm sure you won't be disappointed."
Ingredients
29.58 ml olive oil

1 medium onion

2 green hot banana peppers

3 garlic cloves

29.58 ml minced fresh ginger

236.59 ml pumpkin puree ( I made mine fresh from butternut squash. Note ( an equal amount of cooked, pureed sweet potato works)

22.18-29.58 ml Thai red curry paste ( depending on your heat tolerance)

473.18 ml coconut milk ( method to make your own follows)

17.25 ml brown sugar, packed

4.92 ml salt

680.38 g boneless skinless chicken breasts, cut into large cubes ( this worked out to 4 breasts)

44.37 ml sour cream or 44.37 ml Greek yogurt

To make coconut milk
Directions
Make coconut milk: In a medium-sized pot, place dessicated coconut and water. Mix and allow to soak for ½ an hour. After ½ an hour, turn heat onto low and bring to a gentle simmer. Simmer, covered, for 10 minutes. Turn off heat and leave pot on element for ½ an hour. After ½ an hour, transfer coconut mixture to blender or processor and process for 45 seconds. Put a large sieve over a bowl and empty coconut mixture into it. Press down hard on coconut solids with the back of a spoon to remove as much coconut milk as possible. This method produced 2 cups of coconut milk. Can be made up to 2 days before recipe and refrigerated, covered. The milk will separate in the fridge, forming a creamy 'fat' layer on top, and a thinner 'liquid' layer underneath. Not to worry, the fat layer will melt into the curry along with the liquid and form a lovely milk.

For curry: In a food processor, pulse onion, peppers, ginger and garlic to make a smooth paste.

Heat oil in a large skillet over medium heat. Add onion paste and cook for 2-3 minutes. Add pumpkin puree and curry paste and mash into onion paste. Cook until aromatic, another 2-3 minutes. Add sugar, salt and coconut milk, stirring, and bring just to boil. Simmer until slightly thicker, about 4-5 minutes. Add chicken and cook another 10 minutes. Stir in 3 tblsps sour cream so that it is completely incorporated into the sauce and simmer 2 more minutes. Remove from heat.

Serve with your favourite rice pilaf and enjoy!