Pacific Northwest Microwbrew Steamers With Bread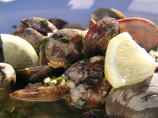 Photo by Mrs Goodall
Prep Time: 10 mins
Total Time: 20 mins
Servings: 4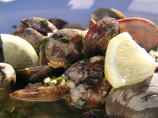 Photo by Mrs Goodall
About This Recipe
"This has amazed our guests for years, but is so easy it leaves me time to enjoy their company! And sometimes hubby and I just have it together with a very oaky Chardonnay. The use of unsalted butter is imperative for this recipe, else it is way too salty! This serves 4 for a pretty filling appetizer or 2 for a meal with a salad. You can use clams instead of mussels if you wish. There will be plenty of broth to soak up with a nice crusty bread."
Ingredients
1 cup unsalted butter

12 garlic cloves, minced

1 teaspoon fresh ground black pepper

2 tablespoons minced shallots ( or sweet onion)

1/2 teaspoon dried tarragon or 1 1/2 teaspoons fresh tarragon

1/2 teaspoon dried thyme or 1 1/2 teaspoons fresh thyme

1/2 cup chopped fresh parsley

1/2 cup chopped fresh chives

1 (12 ounce) bottles northwest amber ale

2 lbs fresh mussels ( debearded)
Directions
In a large non-reactive pot with lid, melt butter.

Add garlic, pepper, shallots, tarragon, thyme, parsley, chives and beer.

Heat just to a simmer and stir in mussels or clams.

Cover and steam 4-7 minutes till shells have opened.

Discard any that have not opened.

Put clams in individual bowls and ladle broth over.

Serve with crusty bread for sopping.