Magickal Banana Apple Raisin Oatmeal Bran Muffins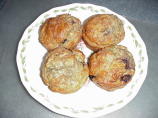 Photo by WiccaChikka
Prep Time: 10 mins
Total Time: 35 mins
Serves: 12, Yield: 12 muffins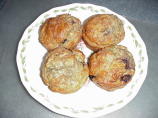 Photo by WiccaChikka
About This Recipe
"This is a healthy snack I concocted for my daughter when she was in school for those after school munchies. It satisfies and adds plenty of fiber, with flavor and nature's goodness. Sometimes I like to substitute the raisins for a cup of blueberries (fresh or frozen)or blackberries in the summer! If you have over ripe bananas, mash, add cinnamon, and freeze them to make these later. YUM!!"
Ingredients
1 -2 ripe banana ( works with one as well)

1/2 teaspoon cinnamon

1 cup milk

1/2 cup oatmeal ( instant ok)

1 1/2 cups Raisin Bran cereal

1/2 cup raisins

1/4 cup cooking oil ( I prefer canola)

1 egg ( or 2 egg whites)

3 tablespoons brown sugar ( white will work)

1/2 cup whole wheat flour

1 1/2 cups unbleached all-purpose flour

1/2 teaspoon salt

1/2 teaspoon baking soda

1 1/2 teaspoons baking powder
Directions
Mash the banana in large bowl. Stir in cinnamon and milk, then oats, bran and raisins. (You may also add 1/3 of a skinned and grated apple if available, or ¼ cup applesauce for additional fiber and vitamins.) Let sit for about 15 minutes to soften cereal.

Beat in the oil, then egg with spoon. If my banana is really ripe, I leave out the sugar or just add a bit to help with the rising of the muffin.

Dump the dry ingredients into the bowl and stir in all at once, just until all is moisturized. If the mixture seems too stiff, add more milk, being careful not to over mix.

Spoon into greased muffin tins or use liners. Bake at 350° for about 25 minutes or until a toothpick inserted in center comes out clean, or close to it. (not too sticky). Makes 10-12 muffins depending on the size of your bananas!

*If you only use one banana and it's a small one, use about 1 cup white flour.