Slow Simmered Spaghetti and Meatballs (Crock Pot)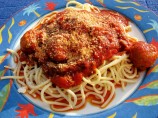 Photo by lazyme
Prep Time: 10 mins
Total Time: 7 hrs 10 mins
Servings: 6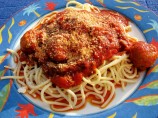 Photo by lazyme
About This Recipe
"This was one of those serendipitous happenings that continue to amaze/amuse me. My DS called me on a Wednesday evening around suppertime to ask if it would be alright to come visit for the weekend, bringing his boys. They would arrive Friday at suppertime. Since I knew that DD and her family would want to be included for dinner to give her more time to visit w/ her brother over the weekend... I suddenly went from "just me" for dinner to "eight" for dinner! What to fix at the last minute like this??? A while later I was reading the paper and came across this recipe in the food section and thought: AH HA! Dinner! I bought the ingredients after work on Thursday and, Friday morning, everything went into the crock pot (I made a double batch). When I got home after work, I made a salad, wrapped bakery Italian bread in foil to heat in the oven, and started the water boiling for the spaghetti. Everyone LOVED it, as I did too, and the leftovers were scarfed up by the grand kids the next day for lunch. Age ranges of diners were 18 months up to ... well, let's just say I'm a grandmother of five! This will definitely be a repeater at my house! (Recipe courtesy of B. Mills & A. Ross of "Desperation Dinners" column in the Raleigh NC News & Observer.)"
Ingredients
1 (26 ounce) jars of red spaghetti sauce

1 (14 1/2 ounce) cans diced tomatoes

1 large onion, for 1 c chopped

1 tablespoon bottled minced garlic

1 1/2 teaspoons dried Italian seasoning

24 frozen meatballs, approx 3/4 pound

12 ounces spaghetti

parmesan cheese (optional)

olive oil (optional)
Directions
Pour spaghetti sauce and tomatoes with juice into a slow cooker.

Add chopped onion, garlic, and Italian seasonings; mix well.

Add still-frozen meatballs; stirring to mix well. Make sure meatballs are covered with sauce.

Cover the slow cooker, turn to LOW heat; cook 7-8 hours.

Just before serving, cook spaghetti according to package directions. (This can be done ahead of time, noodles drained and tossed w/ olive oil, and refrigerated. Reheat noodles in the microwave before serving.).

Serve sauce and meatballs over spaghetti. Pass Parmesan cheese at the table.

NOTE: Any style tomato-based (marinara style) spaghetti sauce can be used. The jar sizes may vary from brand to brand but this is okay.