Grandma's Crumb Cake Cupcakes (Or Cake)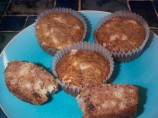 Photo by breezermom
Prep Time: 10 mins
Total Time: 35 mins
Yield: 20 cupcakes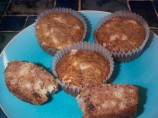 Photo by breezermom
About This Recipe
"This is a recipe my grandmother made all the time. I didn't like raisins, so she always made half without. Was I spoiled, or what? Like many of her old recipes that I have found, she didn't have instructions, just ingredients. (she used a wood stove to cook until I was in junior high (1960s), so many of her recipes just said bake in a hot oven, etc.) I tend to write down ingredients but no directions myself! NOTE: See step #8 for directions on baking as an oblong cake."
Ingredients
1 cup sugar

3/4 cup butter, softened

2 cups flour

1 cup raisins

1 cup sour milk ( or buttermilk)

1 teaspoon baking soda

1 teaspoon ground nutmeg

1 teaspoon ground cinnamon

1 teaspoon vanilla extract

2 eggs
Directions
Pre-heat oven to 350°F.

Line muffin tins or cupcake tins with paper cupcake liners.

With pastry knife or fingers, cut butter into flour and sugar until crumbly. Reserve 1/2 cup for topping.

Add remaining ingredients to flour mixture and stir until just mixed.

Fill cupcake liners 2/3 full and sprinkle reserved crumb mixture evenly over tops.

Bake 20-25 minutes.

Cool on wire rack.

To make a cake, pour batter into a greased and floured oblong baking pan and top with reserved crumbs. Bake as above.