Lead Me Not Into Temptation or Crème De Menthe Poof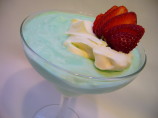 Photo by cookiedog
Prep Time: 10 mins
Total Time: 55 mins
Servings: 8-10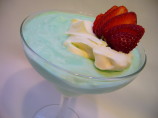 Photo by cookiedog
About This Recipe
"Preparation for my annual Easter Gala was in full swing, and I was hopelessly behind schedule. Finishing up the desserts, my housekeeper Teresa was licking the beaters with a silly smile. Knowing she doesn't imbibe, I reminded her the "green stuff" was a liqueur. Running out of time, I asked if she could just stay another hour to help, I'd fork over a bonus and she could take home the extra food. She rolled her eyes and said, "I'd do ANYTHING for more of that Green Fluff." Easter Brunch 2005 was a roaring success, and Teresa's Temptation & Fall From Grace is permanent addition to our Favorite Things. It's simple, very pretty and not too sweet. Now, who wouldn't like that? Enjoy it for Easter or St. Pats!"
Ingredients
1 (1/4 ounce) envelope plain knox unflavored gelatin

3/4 cup water ( divided use)

3/4 cup sugar

1/8 teaspoon salt

1/4 cup fresh lemon juice

1/2 cup creme de menthe ( green, not clear)

1 pint whipping cream
Directions
Soften gelatin by sprinkling over 1/4 cup cold water. Let stand 1 minute. Add 1/2 cup boiling water and stir until gelatin is completely dissolved,.

Add sugar, salt, lemon juice, Crème de Menthe and stir well.

Cool in refrigerator until syrupy.

Beat the cream and fold into the syrupy mixture.

(Save a small amount of cream for top decoration.).

Turn into a soufflé dish or a pretty clear glass bowl and chill until ready to serve.

Garnish the top with fresh strawberries, raspberries, mint leaves or shaved chocolate and the reserved whipped cream.