Rice-Broccoli Casserole W/ Nutritional Yeast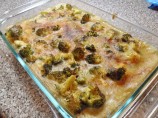 Photo by Wish I Could Cook
Prep Time: 45 mins
Total Time: 1 hr
Servings: 4-6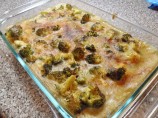 Photo by Wish I Could Cook
About This Recipe
"As a Vegetarian, I'm always trying new things to get all the nutients my body requires. I found this recipe in a magazine a few years ago, it's become a family favorite. The nutritional yeast gives this a bit of a cheesy flavour. Great for veggie potlucks too."
Ingredients
10 ounces broccoli

2 cups white rice

1/2 cup soy margarine ( I use regular low cal)

1/2 cup unbleached all-purpose flour

3 1/2 cups boiling water

2 teaspoons salt

1 tablespoon soy sauce or 1 tablespoon tamari

1 1/2 teaspoons garlic powder or 2 garlic cloves

1 teaspoon onion powder

1 pinch turmeric

1 cup nutritional yeast

salt and pepper

1 pinch paprika
Directions
Steam the broccoli about 6 minutes. Prepare the rice according to package directions.

Spread the cooked rice evenly over the bottom of a 13 by 9 baking dish. Sprinkle the broccoli over the rice and set aside.

Preheat oven to 350.

Melt the margarine in a medium sauce pan over low heat. Beat in the flour with a whisk over medium heat until the mixture is smooth and bubbly. Then whisk in the boiling water, salt, soy sauce, garlic, onion powder and tumeric. Cook the sauce until it thickens and bubbles, stirring constantly. Then whip in the yeast. Add salt and pepper to taste.

Pour the sauce over the broccoli and rice, sprinkle the top with paprika and bake for 15 minutes. If desired, place pan under broiler for a few minutes until the sauce is browned and crusty.

This sauce is great over Lentil loaf as well.