Spiced Pears With Chocolate Mascarpone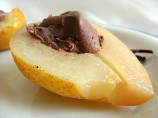 Photo by Lalaloula
Prep Time: 24 hrs
Total Time: 24 hrs 40 mins
Servings: 4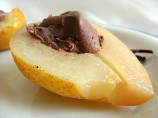 Photo by Lalaloula
About This Recipe
"Wonderfully spiced pears with creamy chocolate-cheese filling."
Ingredients
2 1/2 cups riesling wine or 2 1/2 cups sauterne

1/2 cup sugar

1/2 vanilla bean, split open lengthwise

1/2 lemon, zest of, cut into strips

2 slices orange rind, 2 1/2 inches long

4 cloves

2 bay leaves

1/2 teaspoon peppercorn, lightly crushed

1 sprig fresh thyme

1/4 teaspoon ground nutmeg

1/8 teaspoon ground mace

1/4 teaspoon ground cardamom

1 cinnamon stick

4 bartlett pears ( firm, but ripe)

3 ounces bittersweet chocolate, chopped

4 -6 ounces mascarpone cheese

3 tablespoons powdered sugar

1 teaspoon dark rum

2 tablespoons butter, melted

2 tablespoons walnuts, coarsely chopped

4 biscotti
Directions
To make the spiced pears: In a large non-aluminum saucepan combine the wine, sugar, vanilla bean, lemon zest and orange peels. Tie the cloves, bay leaves, peppercorns and thyme in a piece of cheesecloth; add to the pan with nutmeg, mace, cardamom and cinnamon stick. Bring to a boil; reduce heat and simmer uncovered for 15 minutes.

Peel pears and cut in half length-wise. Add the pears to the liquid, cover and reduce heat to medium-low. Gently cook about 5 to 15 minutes, or until almost tender. Remove from the heat and let sit covered 5 minutes.

Remove the pears from the syrup and allow to cool to room temperature on a wire rack. Chill the syrup on ice; when completely cooled, add the pears, cover and refrigerate for 4 hours or overnight.

To make the chocolate mascarpone: Melt chocolate in microwave or in top of double-boiler over boiling water. Cool slightly. Whip the mascarpone with the powdered sugar until smooth. Add the melted chocolate and rum, whisking well. Refrigerate until chilled. Spoon into a pastry bag fitted with star tip and set aside.

Preheat oven to 450-degrees F. Remove the pears from the syrup and drain. With teaspoon or melon baller, carefully hollow out the pears, removing the core. Place the pears in an oven proof skillet large enough to hold all 8 halves. Brush with melted butter.

Bake in the preheated oven for 5 minutes or until barely heated through. Remove the skillet and carefully turn pears over in the hot butter. Transfer 2 halves to each warm serving plates and fill each half pear with chocolate mascarpone. Sprinkle with walnuts. Serve immediately with biscotti.