3-Bean Salad With Marinated Sweet Onions and Roasted Peppers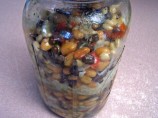 Photo by Rita~
Prep Time: 15 mins
Total Time: 1 hr 15 mins
Servings: 8-10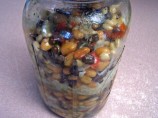 Photo by Rita~
About This Recipe
"There are a lot of bean salad recipes out there, but this one is far and away the best I've ever come across. Try to find Vidalia onions, but any sweet onion will do."
Ingredients
SALAD DRESSING

1 tablespoon balsamic vinegar

2/3 cup olive oil

1 teaspoon cilantro ( minced)

1/2 teaspoon thyme ( minced)

1/2 teaspoon basil ( minced)

1/4 teaspoon ground cumin

1 teaspoon honey mustard

1 garlic clove ( minced)

Salad

1 (15 ounce) cans black beans

1 (15 ounce) cans pinto beans

1 (15 ounce) cans white navy beans

2 (7 ounce) jars roasted sweet peppers ( drained and chopped)

Onion Garnish

1 -2 cup sweet onion ( sliced paper-thin)

1/4 cup cider vinegar

2 teaspoons sugar

1/2 teaspoon salt ( to taste)
Directions
Salad Dressing: In a mixing bowl, combine all ingredients. Process in food processor until smooth. Makes 2/3 cup.

Salad: Drain beans in colander. Place in large bowl with peppers. Add 1/2 cup of prepared salad dressing and toss gently. Cover and refrigerate at least 1 hour, preferably overnight.

Reserve and refrigerate remaining salad dressing.

Onion Garnish: In another bowl, toss the onion with the vinegar sugar and 1/2 teaspoon salt. Cover and refrigerate.

At serving time, adjust seasoning on beans. Add remaining salad dressing, if desired.

Garnish with sliced onion mixture.