Delicious Crock Pot Barbecued Pulled Pork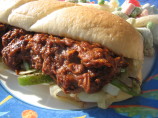 Photo by lazyme
Prep Time: 24 hrs
Total Time: 32 hrs
Servings: 6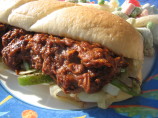 Photo by lazyme
About This Recipe
"I have made this a number of times over the years, a long marinating time and slow cooking is the secret here! this is an easy recipe with wonderful results! --- you must plan ahead the roast needs to marinate for 24 hours or even up to 3 days --- if you are a garlic lover cut slits in the roast and stuff with whole garlic cloves if desired, If you have plastic gloves then use them to rub the spices into the meat if not be careful the cayenne is very hot --- you will love this!"
Ingredients
1 (4 lb) pork shoulder or 1 (4 lb) pork butt

2 tablespoons minced fresh garlic ( or mix in 3 teaspoons garlic powder to spice mix in place of fresh garlic or use both!)

3 teaspoons seasoning salt

1 teaspoon black pepper

3 teaspoons garlic powder ( use if omitting the fresh garlic)

1 1/2-2 teaspoons cumin

1 1/2 teaspoons paprika

1/4 teaspoon cayenne pepper ( or to taste)

2 onions, thinly sliced

1 large green bell pepper, seeded and cut into strips

2 (18 ounce) bottles favorite barbecue sauce

1 cup packed light brown sugar
Directions
If you are using fresh garlic then rub onto the roast (you may use both the fresh and garlic powder if you are a lover of garlic).

In a small bowl mix together seasoning salt, black pepper and 3 teaspoons garlic powder (if using) cumin, paprika, and cayenne, then using clean hands rub the roast well with the spices using pressure to make certain that the spices penetrate deep into the meat.

Place the roast in a bowl, cover and refrigerate for a minimum of 24 hours or up to 3 days.

Place the onions and bell pepper strips in the bottom of the crock pot, then place the roast over the onions and peppers.

In a bowl mix together barbecue sauce and brown sugar, then pour over the roast.

Cover and cook on LOW for 8-10 hours, or until the roast is cooked and tender.

Transfer the roast to a cutting board.

Pull pork into coarse shreds using 2 forks.

Serve the pork on a bun or over cooked rice topped off with the sauce.