Pigs in a Blanket (From Scratch)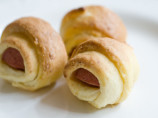 Photo by artholic
Prep Time: 20 mins
Total Time: 33 mins
Yield: 18 pigs in a blanket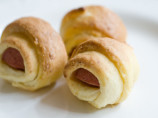 Photo by artholic
About This Recipe
"For anyone who has ever been out of crescent dough during an emergency...."
Ingredients
2 cups all-purpose flour

1 tablespoon sugar

2 teaspoons baking powder

1/2 teaspoon baking soda

1/2 teaspoon salt

4 tablespoons unsalted butter, cold, cut into small pieces

1/2 cup grated cheddar cheese

3/4 cup buttermilk

18 miniature hot dogs
Directions
Heat the oven to 400ºF. Grease a large baking sheet. Sift the dry ingredients (flour through salt) into a mixing bowl (or dump them in one at a time, whatever).

Rub the butter pieces into the dry ingredients until mixture is crumbly. Stir in cheese until evenly distributed.

Make a well in the dry ingredients and add the buttermilk. Stir well with a wooden spoon. Let the dough sit for 3 minutes.

Sprinkle the dough with flour and stir once or twice then turn out onto a well floured counter.

With floured hands, pat the dough into a 15 by 7 inch rectangle, trimming the sides if necessary to get a true rectangle. (Handle the dough as little as possible for tenderness, yeah right).

Using a pizza cutter, slice the rectangle into thirds horizontally then slice each third into thirds vertically, this will give you 9 small rectangles. Slice each rectangle diagonally into two thin triangles.

One at a time, roll up the sausages in the triangles. Place pointy side down on greased cookie sheet.

Bake for 12 to 13 minutes, until golden brown. Cool on the sheet for 3 minutes then tranfer to a wire rack.