Camarones Enchilados - Deviled Shrimp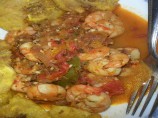 Photo by sheila0407
Prep Time: 15 mins
Total Time: 30 mins
Servings: 6-8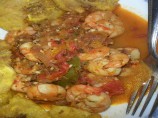 Photo by sheila0407
About This Recipe
"This is one of the few Cuban dishes that is a little spicy, rather, it is redolent with garlic and tomatoes and the succulent flavor of fresh-caught shrimp. As all Cuban favorites, it is served with white rice and either ripe or green plantains. Add a green salad and garnish with some cilantro and you're good to go. Delicious!"
Ingredients
olive oil

2 cups chopped onions

1/2 cup diced red pimiento

1/4 cup orange bell pepper, cut into 1/2-inch strips

1/4 cup green bell pepper, cut into 1/2-inch strips

1/4-3/4 teaspoon crushed red pepper flakes

1/4 teaspoon salt ( or to taste)

fresh ground black pepper ( or to taste)

4 garlic cloves, minced

1 cup dry white wine

3 bay leaves

1 teaspoon ground oregano

1/2 cup chopped parsley or 2 tablespoons fresh cilantro

2 (14 1/2 ounce) cans diced tomatoes, undrained

2 lbs medium shrimp, peeled and deveined

1 teaspoon soy sauce

hot sauce, a few splashes (optional)

2 cups fluffy white rice (optional)
Directions
Heat oil in large nonstick skillet over medium-high heat.

Add onion; sauté 2 minutes.

Add bell peppers, crushed red pepper, salt, garlic, bay leaf, oregano, and soy sauce; sauté 4 minutes.

Add tomatoes; cook 6 minutes or until liquid is almost evaporates, stirring frequently.

Add white wine and cook another minute or so.

Stir in shrimp and cook another 4 minutes or until shrimp are done, stirring frequently.

Remove shrimp mixture from heat.

Pour over rice.