Chicken Breasts With Brandied Cherry-Chocolate Sauce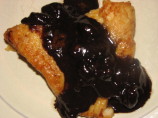 Photo by Elmotoo
Prep Time: 45 mins
Total Time: 1 hr 15 mins
Servings: 4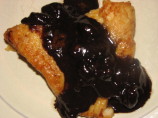 Photo by Elmotoo
About This Recipe
"This sounds so wonderful. A great dish for an elegant dinner party or reduce the recipe for a romantic dinner for 2. Fortunately for us chocolate lovers, research indicates that chocolate has health properties and the substances found in chocolate may help prevent blood clots and coronary plaque. Chocolate also seems to increase HDL (good) cholesterol levels and contains small amounts of magnesium, potassium, protein, phosphorus, calcium and iron. The recipe is found in the February 2006 issues of Delicious Living. If you are not carb conscious, the chicken can be served on top of couscous or rice."
Ingredients
1/4 cup coarse salt

4 cups water

4 boneless skinless chicken breasts

1/4 cup flour

1 1/2 tablespoons butter

1 1/2 tablespoons olive oil

2 cups chicken stock

1/2 cup dried cherries

1/2 cup good-quality balsamic vinegar

1 ounce unsweetened chocolate, chopped

2 tablespoons brandy or 2 tablespoons orange juice
Directions
In a non-reactive bowl, mix the salt and water until dissolved. Add the chicken and allow to brine for 30 minutes in the refrigerator. Remove the chicken from the brine, rinse under cool running water, and pat dry with paper towels.

Preheat oven to 300 degrees. Pour the flour into a shallow dish and roll each breast into the flour, patting gently to lightly coat. Allow the chicken to rest for 10 to 15 minutes.

In a heavy 12-inch skillet, heat the butter and oil over medium-high heat; swirling to mix and cook until the butter begins to brown lightly.

Lay the chicken breasts in pan and cook, undisturbed, until brown, about 5 minutes. Turn the chicken pieces over and cook on second side, undisturbed, an additional 5 to 7 minutes. Remove the chicken and place in warm oven while making the sauce.

Add the chicken stock to the skillet, scraping to release any brown bits. Boil until reduced to 1 cup. This should take 8 to 10 minutes.

Add the cherries and vinegar; boil until spoon scraped across the bottom of the pan leaves a visible path in sauce, 8 to 10 minutes. Stir in chocolate and brandy.

Plate the chicken on serving plates and spoon the sauce over. Sit back and enjoy with a green side salad.