Lazy Banana Muffins (In the Oven in Just over 5 Minutes)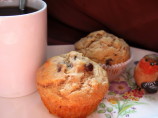 Photo by Annacia
Prep Time: 5 mins
Total Time: 25 mins
Serves: 12, Yield: 12 muffins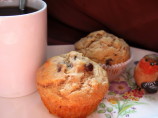 Photo by Annacia
About This Recipe
"A yummy easy muffin - I stumbled on in an attempt to use up the left over sour cream & some browning bananas - I whipped out my trusty blender and threw this togeather with some items I usually keep in the cupboard. In just over 5 minutes they were in the oven....and most of that time was spent trying to separate the patty papers from each over."
Ingredients
1 egg

2 bananas ( ripe)

3/4 cup golden syrup ( or honey)

1/3 cup sour cream ( low fat or low fat plain yoghurt)

1 tablespoon canola oil

1 teaspoon vanilla

2 cups self raising flour

1/2 cup chocolate chips

1/2 cup walnuts ( roughly chopped)
Directions
Pre heat oven to 180 c of 350f.

Grease & line muffin tins with liners.

In a blender place - egg, bananas, golden syrup, lite sour cream, canola oil & vanilla.

Blend until smooth.

In a large bowl combine remaining dry ingredients & make a well in the centre.

Pour banana blend into the well and mix until JUST combined (Over mixing will make a tough muffin and exhausts a chef who just wants to go put her feet up).

Spoon equal amounts into the 12 holes.

Bake for 20 minutes. Allow to cool in tin for 5 minutes before turning out on a rack to cool.

Yummy warm with a coffee.