Crispy Oven-Fried Cod Fish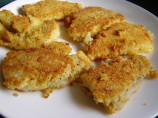 Photo by NoraMarie
Prep Time: 10 mins
Total Time: 16 mins
Servings: 6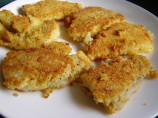 Photo by NoraMarie
About This Recipe
"There is nothing fancy about this but if your looking for a crispy coating without any deep-frying this is about as good as it gets, If your skillet is not large enough to hold all of the fish, then transfer to a baking sheet that has been coated with oil, only dry breadcrumbs or the coating will not adhere to the fish --- cooking time is for oven only, if desired any large fish fillet can be replaced for the cod, all seasoning my be adjusted to taste"
Ingredients
1 1/2 cups dry breadcrumbs

1 1/2 cups yellow cornmeal

2 1/2 teaspoons seasoning salt

1 1/2 teaspoons lemon pepper ( or use 1 teaspoon black pepper or to taste)

1 1/2 teaspoons garlic powder ( garlic lovers increase to 2 teaspoons if desired)

1/2 teaspoon cayenne pepper ( more or less if desired)

6 (6 ounce) cod fish fillets ( about 3/4-inch thick)

3 large eggs, slightly beaten

6 -7 tablespoons vegetable oil ( more or less as needed)
Directions
Preheat oven to 475 degrees (set oven rack to second-lowest position).

In a large heavy ziploc plasic bag combine bread crumbs, cornmeal, seasoning salt, lemon pepper, cayenne and garlic powder; shake the bag to mix (can use a shallow bowl).

In a shallow bowl slightly beat the eggs.

Adding one piece of fish at a time to the bag, coat well with the mixture, then remove and dip the fish in the eggs, then return to the bag to coat the fish again, repeat for all of the cod pieces; transfer to a plate.

Heat about 3 tablespoons oil in a large 12-inch ovenproof skillet (preferably cast-iron) over high heat until hot but not smoking.

Fry the fish until the undersides are golden brown (about 1 minute).

Turn over and add in another 3-4 tablespoons oil; cook another 1 minute more.

Place the skillet in the oven and bake for about 5-6 minutes or until JUST cooked through.