Melon Bubble Tea (Boba Tea)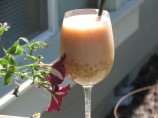 Photo by Bonnie G #2
Prep Time: 25 mins
Total Time: 50 mins
Servings: 5-6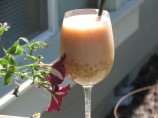 Photo by Bonnie G #2
About This Recipe
"This looked too good not to post. Be all the rage while drinking the latest Asian trend in teas! How silly, huh? Drink it because it's GOOD! *Large, specialty tapioca pearls specifically designed for bubble teas are available in Asian markets and gourmet food stores. If using straws, make sure they have a large diameter."
Ingredients
2 cups prepared brewed green tea

1/3 cup sugar

4 cups water

1/2 cup pearl tapioca ( Raw, black or pastel-colored)

4 cups honeydews or 4 cups cantaloupes or 4 cups watermelon, chunks

4 cups ice cubes

2 cups orange juice

1/2 cup coconut milk
Directions
Combine green tea with sugar and set aside.

In a medium saucepan, bring water to boil over high heat; add tapioca pearls. Stir lightly and let pearls float to top. Reduce heat to low and simmer, uncovered, 25 minutes. Remove from heat and let pearls sit in water 25 minutes until chewy and translucent.

Drain and rinse under cold water. Combine in medium bowl with sweetened tea. Refrigerate until needed.

Blending in 2 batches, combine melon, ice cubes, orange juice and coconut milk in blender or food processor. Process until smooth.

Place about 1/4 cup tapioca mixture in bottom of large glass. Fill with melon mixture. Serve with straws if desired.