Eggplant (Aubergine) and Portabella Schnitzel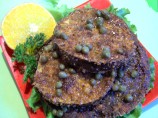 Photo by Sharon123
Prep Time: 15 mins
Total Time: 45 mins
Servings: 8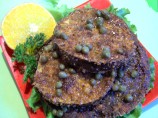 Photo by Sharon123
About This Recipe
"This is a twist on the classic. Lemon and capers make all the difference!"
Ingredients
Schnitzel

1 cup low-fat milk

1 large egg

2 cups dried Italian seasoned breadcrumbs

8 large portabella mushrooms, stemmed

2 medium eggplants, sliced into 1/2-inch rounds

cooking spray, for coating vegetables ( or olive oil)

Lemon Caper Sauce

3 tablespoons butter

3 tablespoons extra virgin olive oil

3 teaspoons capers

3 tablespoons lemon juice

3 tablespoons parsley, chopped

lemon slice ( to garnish)

parsley sprig ( to garnish)
Directions
Preheat the oven to 350°F Coat baking sheet with cooking spray.

To Make the Schnitzel:.

Whisk the milk and egg together in a large bowl. Spread the breadcrumbs on a large plate. Dip the mushroom and eggplant slices into the milk mixture, then coat the slices with breadcrumbs. Shake off the excess crumbs, and place on the prepared baking sheet. Spray the vegetables with cooking spray(or you may brush with some olive oil), and bake 10 minutes. Flip vegetables, and spray again with the cooking spray(or more olive oil). Bake 10-15 minutes more, or until the vegetables are tender and breadcrumbs are dark golden brown. Set aside.

To make Lemon Caper Sauce:.

Melt the butter in a saucepan over medium high heat. Cook 2-3 minutes, or until the butter begins to brown. Stir in oil and capers, and cook 1 minute more. Remove from the heat, and add lemon juice and parsley.

To serve, stack 1 mushroom and several eggplant rounds on each plate; drizzle with the lemon caper sauce,and garnish with lemon slices and parsley sprigs. Serve immediately. Enjoy!