Anchor Bar Buffalo Wing Sauce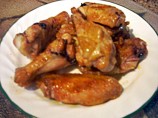 Photo by Chef Joey Z.
Prep Time: 15 mins
Total Time: 45 mins
Yield: 30 wings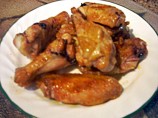 Photo by Chef Joey Z.
About This Recipe
"Allegedly the original."
Ingredients
6 tablespoons louisiana hot sauce

1/4 cup margarine, not butter

1 tablespoon white vinegar

1/8 teaspoon celery seed

1/8-1/4 teaspoon cayenne pepper

1/8 teaspoon garlic salt

1 dash black pepper

1/4 teaspoon Worcestershire sauce

1 -2 teaspoon Tabasco sauce
Directions
The Sauce: This makes enough for about 30 "wingettes." Mix all the ingredients in a small sauce pan over low heat until the margarine is completely melted. Stir occasionally.

The Wings: Fry the wings in a deep fryer set at 375 degrees F using vegetable or peanut oil. Fry 15 wings at a time for 12 to 15 minutes. Drain the wings for a few minutes then put them in a bowl. After all the wings have been fried, pour the sauce over them, cover the bowl, and shake to completely coat the wings.

They can be eaten now, or you can put them on a baking sheet and bake them for a few minutes to get an extra-crispy coating.