Oaxacan Turkey Burgers With Chipotle Salsa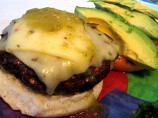 Photo by Charmie777
Prep Time: 1 min
Total Time: 1 min
Servings: 4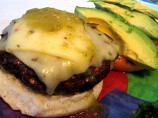 Photo by Charmie777
About This Recipe
"Although you will not find these turkey burgers at a local cantina in Oaxaca, I can vouch that they certainly did conjure up fond memories of the flavors in dishes I ate on some of my many journeys to Oaxaca. I could even imagine these burgers served at one of the open air market's concessions. I tip my hat once again to Steven Raichlen, my grilling hero, for yet another impressively creative and delicious burger. Minus some personal modifications to the recipe, this is the recipe that appeared in Burger. Make Ahead: The salsa makes about 2 cups and can be made ahead of time and stored in the refrigerator in a sealed container for 2 days. Beer Recommendation: A rich malty, roasty beer that absorbs the heat and provides a great counterpart to chipotles and grilled meat is a good choice to pair with these burgers. If you happen to find a Noche Buena, a great dark beer from Mexico, this would be my first choice. Second would be Negra Modelo, a slightly sweet brew with some fruitiness, it's malty for a Mexican beer and goes well with chipotles."
Ingredients
1 1/2 lbs ground turkey, at room temperature

3 tablespoons finely chopped cilantro

1 scallion, finely chopped

1 garlic clove, minced

1 teaspoon pure dried ancho chile powder

1 teaspoon kosher salt

1/2 teaspoon fresh ground pepper

1/2 teaspoon ground cumin

1/2 teaspoon ground coriander

1 pinch ground cinnamon

vegetable oil, for brushing

4 English muffins, toasted

1/2 ripe Hass avocado, sliced

3 tablespoons toasted shelled pumpkin seeds ( pepitas)

Chipotle Salsa

6 small tomatillos, husked

5 large garlic cloves

4 plum tomatoes

1/4 large onion

3 canned chipotle chiles in adobo, seeded and finely chopped, with

2 teaspoons of the adobo sauce

2 1/2 tablespoons finely chopped fresh cilantro

coarse salt

1/2 teaspoon brown sugar
Directions
Chipotle Salsa:.

Heat a thick cast iron skillet until very hot and add tomatillos, garlic, tomatoes and onion and cook over low heat. Frequently flip until blackeded in small areas and soft, about 10 minutes. Place on plate and set aside to cool.

Put the tomatillos, garlic, tomatoes and onion in a blender or food processor and pulse until coarsely chopped, be careful not to liquify. Add chipotles and adobo sauce, cilantro, salt and sugar and pulse one or two times until JUST mixed.

Burgers:.

Add turkey, cilantro, scallion, garlic, ancho powder, salt, pepper, cumin, coriander and cinnamon to a mixing bowl and gently knead. Form 4 patties about 3/4 inch thick and put on a saran wraped plate.

Light your grill and when it is heated brush grate with oil. Grill the burgers for 13 minutes, turning once, for medium. Briefly warm the english muffins and place a burger on the bottom slice; top with the avocado, pumpkin seeds and a helping of Chipotle Salsa. Top the burger and serve with the remaining salsa on the side.