Good Low-Carb Slow-Cooked Short Ribs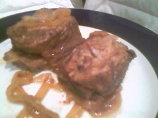 Photo by MyMagicMoo
Prep Time: 0 mins
Total Time: 8 hrs
Servings: 5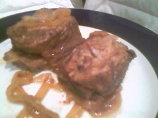 Photo by MyMagicMoo
About This Recipe
"Low-Carb Ribs"
Ingredients
1 (8 ounce) cans tomato sauce

3/4 cup water

2 tablespoons wine vinegar or 2 tablespoons cider vinegar

4 tablespoons soy sauce

2 teaspoons Splenda sugar substitute

3 -4 lbs short rib of beef

1 large onion
Directions
In a bowl, mix together the tomato sauce, water, vinegar, soy sauce, and Splenda.

Put the ribs in the slow cooker. (It's okay if they're frozen, you don't have to bother thawing them). Slice the onion and place it on top of the ribs. Pour the sauce over the onion and ribs.

Set the slow cooker on Low and cook for 8-9 hours. (If you put the ribs in thawed, cut about 1 hour off the cooking time).

This recipe came from the book "500 Low-carb Recipes" by Dana Carpender.