McDonald's Candied Walnut & Fruit Salad by Todd Wilbur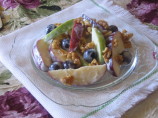 Photo by Velouria
Prep Time: 10 mins
Total Time: 20 mins
Servings: 4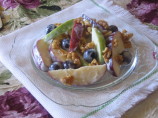 Photo by Velouria
About This Recipe
"From www.TopSecretRecipes.com The salad is simple and good, but this is a new way of making candied walnuts!"
Ingredients
Candied Walnuts

1 teaspoon peanut oil

1 teaspoon honey

2 tablespoons white sugar

1/2 teaspoon vanilla

1/8 teaspoon salt

3/4 cup walnuts, coarsely chopped

Salad

2 green apples, cored, cut into 14 slices ( Granny Smith)

2 small red apples, cored, cut into 14 slices ( Gala)

40 red seedless grapes

3/4 cup low-fat vanilla yogurt

2 tablespoons lemon juice
Directions
Immediately after slicing apples, dip the slices into lemon juice to keep from browning. Set aside.

To Make Candied Walnuts:.

Combine peanut oil, honey, sugar, vanilla and salt in a medium skillet over medium heat. When the mixture begins to bubble, add the walnuts and stir constantly until the walnuts begin to caramalize(they may start smoking too). Quickly turn off the heat and keep stirring so they don't burn. After stirring for a minute or so, pour the walnuts onto a plate. Toss the nuts so they won't stick together.

When the nuts have cooled, you may start building your salad. Mix 7 slices of red apple, 7 slices of green apple, 10 grapes, 3 tbls. of yogurt and 3 tbls. of candied walnuts, stir and serve. Enjoy!