Quick and Low-Cal Grilled Bistro Chicken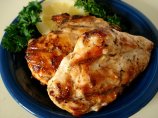 Photo by Marg (CaymanDesigns)
Prep Time: 5 mins
Total Time: 25 mins
Servings: 4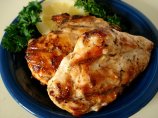 Photo by Marg (CaymanDesigns)
About This Recipe
"This is one of those "from the dietitian" deals. I don't know where she gets this stuff, but it's pretty darn good. The hospital where she works always has good food and I actually don't mind eating there. But then again, when you're in the hospital on a 1200 cal. diet instead of your totally flexible at-home carb counting diet, you'll eat just about anything except the baked hamburger steak."
Ingredients
1/2 cup mayonnaise

1/2 teaspoon dried rosemary leaves

1/2 teaspoon dried thyme leaves

1/2 teaspoon garlic salt

1/2 lemon, juice of

4 boneless skinless chicken breast halves ( about 1-1/4 lb.)
Directions
Stir together all the herbs, mayo, and lemon juice. Brush on the chicken.

Light your grill about 20 minutes before grilling the chicken. Allow the chicken to soak up the first brushing.

Place on the grill and cook until done, continuing to brush the mixture on the chicken until done.