Crock Pot Chicken Tortilla Soup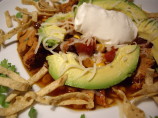 Photo by Columbus Foodie
Prep Time: 20 mins
Total Time: 8 hrs 20 mins
Servings: 12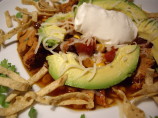 Photo by Columbus Foodie
About This Recipe
"There was a little restaurant in Lewis Center, OH called Nacho Mama's that had the best chicken tortilla soup I ever tasted. When it went out of business, I had to find out how to reproduce it - once I did, I slowly improved on the recipe until I made it my own."
Ingredients
3 lbs boneless skinless chicken breasts

2 (1 1/4 ounce) packets taco seasoning

1 large onion, diced

1 minced garlic clove

1 tablespoon olive oil

48 ounces chicken broth

1/8 cup lime juice

1 (15 ounce) cans tomatoes and green chilies ( Rotel or similar)

1 (15 ounce) cans corn, drained

cumin, to taste

chili powder, to taste

salt, to taste

For garnish

1 avocado, pitted and cubed

8 ounces sour cream

8 ounces shredded cheese

16 ounces fresh pico de gallo

6 ounces corn tortilla strips, deep fried

1 bunch cilantro, chopped
Directions
Empty the the taco seasoning packets into a plastic bag, and place the chicken in the bag and shake to coat the chicken with the taco seasoning.

On a contact grill, grill the chicken until fully cooked, about 7 minutes.

While the chicken is grilling, saute the onion and garlic in a pan with the olive oil, until softened.

Sliced the chicken into 1/2 inch slices and place it into the crock pot along with the onions and garlic.

Place the following ingredients in the crock pot in this order: chicken broth, tomatoes, corn, and lime juice.

Add cumin, salt, and chili powder to taste. Experiment with what your preferences are, being sure to remember that the flavor will deepen and intensify as the soup cooks. In other words, the final result will be stronger, so go light on the seasonings if you don't like it spicy.

Cook on high for about 6-8 hours, or low for 10-12 hours.

To assemble the final product, in a shallow bowl, place tortilla strips on the bottom, and then spoon the soup over top. Finish with your choice of garnish, all are recommended for the best taste.