New England Harvest Cranberry Pumpkin Bread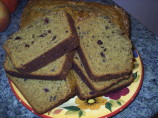 Photo by JanetB-KY
Prep Time: 10 mins
Total Time: 1 hr 10 mins
Serves: 16, Yield: 2 loaves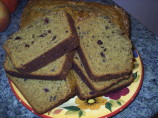 Photo by JanetB-KY
About This Recipe
"Wonderful on a cold rainy day like I have here today. I have made this about 5 times since finding the recipe last year & always love it. I changed it from the original a little in the matter of spices & adding some flavoring. This is different than most other pumpkin cranberry breads in that it uses canned sauce so it is good year round if you don't have a frozen stash of cranberries. I haven't yet made it with the glaze. It is great without it spread with butter or Pumpkin Butter. You can sub 1 1/2 tblsp pumpkin pie spice for the spices but personally I like to be able to add a little more or less of whatever I may or may not be in the mood for."
Ingredients
3 1/2 cups all-purpose flour

1 2/3 cups sugar

2 teaspoons baking soda

1 teaspoon baking powder

3/4 teaspoon salt

1 tablespoon cinnamon

1/2 teaspoon nutmeg

1/2 teaspoon allspice

1 teaspoon ginger

1 teaspoon vanilla extract

1 teaspoon orange extract

1 (16 ounce) cans whole berry cranberry sauce

1 (16 ounce) cans pumpkin

2/3 cup vegetable oil
Directions
Preheat oven to 350 degrees.

Grease two loaf pans. The original recipe didn't specify size; I use 9 inch pans.

In large bowl, mix all dry ingredients thoroughly.

In second large bowl combine all wet ingredients; mix thoroughly.

Pour wet ingredients into bowl of dry ingredients. Mix just until thoroughly combined. Do not overmix as this will cause tough bread.

Bake at 350 for approximately 60 minutes or until sharp knife inserted in center comes out clean. If neccessary, cover lightly with foil during the last 20 minutes to prevent the edges from burning.

Let cool in pans for ten minutes then turn out onto racks to finish cooling.

Glaze: Mix one cup powdered sugar, 1/4 cup orange juice concentrate, and 1/8 tsp allspice. Drizzle over cooled breads.