Creamy Lemon Parmesan Rice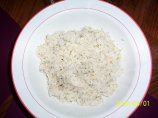 Photo by Chef #288357
Prep Time: 25 mins
Total Time: 40 mins
Servings: 4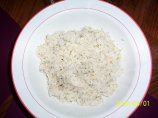 Photo by Chef #288357
About This Recipe
"This rice is absolutely amazing! If you love lemon and rice then you should not pass this up, this rice has all the creaminess of risotto without all the constant stirring. To insure creaminess use only aborio rice for this. If you are not a garlic lover then leave it out."
Ingredients
4 quarts water

2 cups arborio rice

1 medium onion, finely chopped

2 tablespoons fresh minced garlic

1/3 cup chopped fresh parsley

1/3 cup butter, room temperature

1/2 teaspoon dried basil ( can use more or use about 1/4 cup chopped fresh basil)

1 tablespoon fresh lemon juice

1/2 teaspoon grated lemon zest ( you can add in a bit more if desired)

salt and black pepper

1 cup grated parmesan cheese
Directions
Heat about 2-3 tablespoons vegetable oil in a large heavy pot.

Add in the onion and garlic; saute for about 3 minutes.

Add in 4 quarts water and bring to a boil over high heat.

Add in the rice; boil until the rice is JUST tender (about 15-16 minutes; drain and RESERVE 1/2 cup cooking liquid.

In a medium bowl mix together the chopped parsley, softened butter, basil, lemon juice and lemon zest.

Add the hot rice to the mixture; stir to melt butter.

Add in reserved 1/2 cup cooking liquid and grated parmesan cheese; stir well to combine.

Season with salt and pepper.

Sprinkle with more Parmesan cheese if desired.