One-Bowl Chocolate Mocha Cream Cake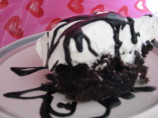 Photo by scancan
Prep Time: 15 mins
Total Time: 45 mins
Serves: 16, Yield: 1 baking dish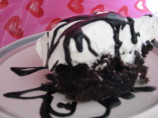 Photo by scancan
About This Recipe
""Cake is my favorite dessert - especially frosted cake." So says Anna Ginsberg from Austin, Tx. The recipe was found on cookinglightcentral.com. I didn't include cooling time for cake in the recipe, that will vary according to the weather and humidity. I am so glad Anna Ginsberg chose to share this recipe and that we were able to make this delicious cake!"
Ingredients
Cake

2 cups all-purpose flour

1 cup granulated sugar

1 cup dark brown sugar

3/4 cup unsweetened cocoa ( I used Hershey's)

1 1/2 teaspoons baking soda

1 1/2 teaspoons baking powder

1/2 teaspoon salt

1 cup reduced-fat mayonnaise

3 tablespoons canola oil

1 cup hot strong brewed coffee ( I used Cuban coffee)

2 teaspoons vanilla extract

1/3 cup semisweet chocolate morsel ( I used a combination of Hershey's & Netsle's)

cooking spray

Mocha Cream

1/4 cup boiling water

1 tablespoon instant coffee granules

1 (7 ounce) jars marshmallow creme

1 (8 ounce) containers frozen light whipped dessert topping, thawed

1/3 cup light chocolate syrup ( Hershey's Lite Syrup)

almonds, toasted and chopped fine
Directions
TO PREPARE CAKE:.

Preheat oven to 350°F.

Combine flour and next 6 ingredients(through salt) in a large bowl.

Add mayonnaise and oil beat with a mixer at low speed until well blended.

Slowly add brewed coffee and vanilla, beat with a mixer at low speed 1 minute or until well blended.

Stir in chocolate; pour batter into 9x13" baking dish coated with cooking spray.

Bake for 30 minutes or until wooden pick inserted in center comes out clean.

Cool completely in pan on wire rack.

TO PREPARE MOCHA CREAM:.

Combine water and granules in a large bowl stir until granules dissolve.

Add marshmallow creme; beat with a mixer at low speed until smooth.

Fold in whipped topping.

Spread mocha cream over top of cake; drizzle with chocolate syrup and sprinkle with nuts.