Spinach Ravioli Casserole With Alfredo Sauce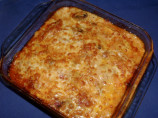 Photo by Bergy
Prep Time: 15 mins
Total Time: 1 hr 15 mins
Servings: 4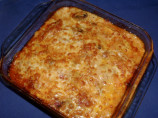 Photo by Bergy
About This Recipe
"I would normally make my own sauce & ravioli but I have been rushed, then realized that I had this in the fridge and threw this recipe together. I enjoyed it and hope that you will too."
Ingredients
300 ml alfredo sauce

1 (350 ml) packages spinach ravioli, -uncooked

1 cup sliced mushrooms

2 tablespoons dry garlic flakes or 2 fresh garlic cloves, peeled & sliced

160 g lite mozzarella cheese, Grated

1/4 cup parmesan cheese, grated

1/2 cup chili sauce or 1/2 cup ketchup or 1/2 cup pizza sauce

3/4 teaspoon chili flakes (optional)

salt & pepper
Directions
Lightly grease a 9 x 9 x 3-inch oven proof dish.

Preheat oven to 350°F.

Pour enough Alfredo sauce to cover the bottom bottom of the casserole (approx 1/2").

Top with a single layer of ravioli, a third of the mushrooms and 1/3 of the mozzarella.

Sprinkle with 1/3 of the chili flakes and 1/3 garlic, season with salt & pepper.

Repeat layers saving 1/3 of the mozzarella & the parmesan.

On the last layer pour in the chili sauce spreading it evenly over the top.

Cover the casserole with foil; bake for 45 minutes, remove foil.

Top with remaining mozzarella & the parmesan, continue to bake uncovered for approx 15 minutes or until the top is beautifully browned.

Rest 10 minutes and serve.