Neighborhood Ham and Bean Soup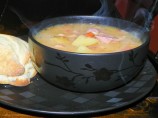 Photo by Baby Kato
Prep Time: 30 mins
Total Time: 6 hrs 30 mins
Servings: 10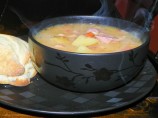 Photo by Baby Kato
About This Recipe
"The flavors in this bean soup remind me of the bean soup my grandmother used to make on our farm in Ohio when I was a young girl. I love to make it during the winter months -- it doesn't last long. My daughter is now making it for her family as well. Maybe it's called "Neighborhood" bean soup because the neighbors love it when I make it -- it's a wonderful soup to share with special friends. It is great served wtih a nice piece of hot corn bread. I can't remember exactly where I found the recipe -- but I'm glad I have it and I hope you will feel the same."
Ingredients
2 cups dried great northern beans

5 cups chicken broth ( low sodium is best)

3 cups water

1 large meaty ham bone ( I use 2 or 3 smoked ham hocks)

2 -3 tablespoons chicken bouillon granules

1 teaspoon dried thyme

1/2 teaspoon dried marjoram

1/2 teaspoon pepper

1/4 teaspoon rubbed sage

1/4 teaspoon dried savory

1 medium onion, chopped

3 medium carrots, chopped

2 celery ribs, chopped ( I also put in a handful of the chopped celery leaves)

1 large potato, cut into cubes ( optional, but very good)

1 tablespoon vegetable oil
Directions
Place beans in a Dutch oven or soup kettle; add water to cover by 2".

Bring to a boil; boil for 2 minutes.

Remove from heat, cover and let stand for 1 hour. Drain.

Add broth, water, ham bone, bouillon and seasonings; bring to a boil.

Reduce heat; cover and simmer for 2 hours (I find I usually add at least an hour to this).

Sauté' onions, carrots and celery in oil; add to soup along with cubed potato (if using).

Cover and simmer 1 hour longer.

Debone ham and cut into chunks; return to soup.

Skim fat (I find I don't have any to skim).

I like to mash some of the beans once they get soft. My total cooking time is more like 6 hours than 4 hours.

Great served with corn bread.