Rich Low Fat Chocolate Cake (Kosher-Dairy)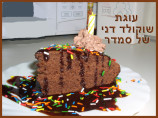 Photo by Smadar's Sane Way Cc
Prep Time: 10 mins
Total Time: 40 mins
Servings: 20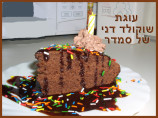 Photo by Smadar's Sane Way Cc
About This Recipe
"The ultimate birthday cake! This cake is so delicious, moist and rich, you won't believe it has less than 30% fat. Top it with chocolate syrup, sprinkle to decorate and don't forget the candles...."
Ingredients
125 g margarine ( soft)

1 1/2 cups sugar ( 300 grams)

2 whole eggs ( 120 grams)

1 egg white ( 35 grams)

4 tablespoons cocoa ( stuffed - 80 grams)

3 1/2 cups prepared chocolate pudding ( Swiss Miss Low-Fat - 400 grams)

2 cups self rising flour ( 280 grams)

75 g natural applesauce
Directions
Preheat oven to 390 degrees F. (180 C).

Grease baking pan with a little bit of the margarine.

Mix the rest of the margarine with sugar and 1 whole egg until mixture is unified.

Gradually and alternately add: flour, cocoa, 1 whole egg, pudding, flour, cocoa, apple sauce, pudding -- and so on, until all mixes up nicely to a homogeneous mixture.

Pure into greased baking pan (square or round) and bake for about 30 minutes, or until cake is ready: dry and bouncy to touch.

When the cake is ready I take it out of the oven and cover-seal it with aluminum foil until cools. This ensures the crust keeps moist.

To decorate, I use chocolate syrup, usually Hershey's (w/0g fat)- and spread it all over as if it was frosting. It's good enough for the sprinkles to stick, and it adds additional moist and chocolaty flavor.

Enjoy!

*** You may substitute the dairy pudding with soy pudding to make this cake Pareve.

20 Servings - Nutritional Values for 1 Serving: 202 Calories, 31.5 grams Carbohydrates, 3.2 grams Proteins, 6.6 grams Fat, 21.6 Milligrams Cholesterol - 29.4% Fat!