Asian Lime and Herbed Tofu in Lettuce Cups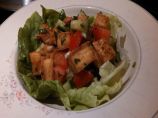 Photo by Elmotoo
Prep Time: 1 hr
Total Time: 1 hr
Servings: 6-8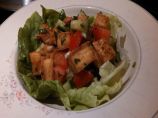 Photo by Elmotoo
About This Recipe
"From Bon Appetit January 2006. Wonderful tofu taking on the flavors of whatever ingredients you add to it-a blank canvas waiting to be painted..."
Ingredients
Salad Dressing

1/4 cup grated fresh ginger

1/4 cup fresh lemongrass, thinly sliced

1/4 cup fresh lime juice

2 tablespoons fish sauce ( read NOTE*)

2 tablespoons water

3 tablespoons sweet chili sauce

Tofu

1/2 cup English cucumber, peeled

1/4 cup scallion

1/4 cup firm tomatoes, diced

2 tablespoons fresh jalapenos, seeded and chopped

2 tablespoons fresh cilantro, chopped

1 tablespoon of fresh mint, chopped

1 tablespoon fresh basil, chopped ( use Thai or Vietnamese basil if available)

1 lb firm tofu, drained, cut into 1/2-inch cubes ( tofu can be weighed down under heavy pans to release the water content)

6 large butter lettuce leaves ( or 12 medium sized)
Directions
NOTE*: Nam pla or nuoc nam (fish sauce) is available in Asian markets. I would strongly suggest to begin by using only 1 TEASPOON of the fish sauce in this recipe and then adjust seasoning accordingly. For vegetarian version, omit the fish sauce.)

DRESSING: Puree the first 5 ingredients in a blender. Allow the mixture to stand at least 5 minutes or up to 1 hour. Stir in chili sauce.

Strain the dressing into a small bowl, pressing down the solids with a spatula to release the liquids. Discard solids.

TOFU: Toss together the first 7 ingredients. Next add the tofu and salad dressing, tossing to coat well.

For each serving, arrange 1 or 2 lettuce leaves on a plate. Divide the tofu mixture onto the lettuce leaves.