Stacy's Favorite Vegetable Beef Soup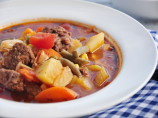 Photo by SharonChen
Prep Time: 45 mins
Total Time: 1 hr 45 mins
Servings: 8-10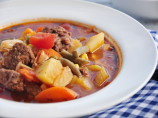 Photo by SharonChen
About This Recipe
"This is a soup that I have concocted under the inspiration of 4 different recipes, and out of the sheer, selfish desire to satisfy my childhood cravings! I took what I liked from each, discarded what I didn't, and added a few what-nots that I craved. My 4 kids have always been leery of vegetable soup, but when they tried this version based on my own particular favorites, it was "4 Thumbs Up!" You can't beat those odds...:)"
Ingredients
1 1/2 lbs beef stew meat, cut into bite-sized pieces

1 tablespoon vegetable oil

3 cups beef broth

3 cups v 8 vegetable juice

3 cups water

1/2 cup red wine

1 onion, finely chopped

1 stalk celery, chopped

2 carrots, peeled and sliced

2 russet potatoes, peeled and cubed

1 teaspoon minced garlic

2 cups cabbage, chopped

1 (14 ounce) cans corn, drained

1 (14 ounce) cans cut green beans, drained

1 (14 ounce) cans diced tomatoes with juice

1 (16 ounce) packages frozen mixed vegetables

2 beef bouillon cubes

2 teaspoons dried basil

1 teaspoon dried oregano

1 1/2 teaspoons salt

1/2 teaspoon pepper

1 bay leaf
Directions
Heat vegetable oil in a large stew pot. Add the stew meat and thoroughly brown on all sides. Add red wine and deglaze pot, stirring in all the brown bits on the bottom until the wine is reduced by at least 1/2. Add the chopped onion and minced garlic and saute for about 5 minutes longer.

Dump in all the other ingredients and stir well.

Bring to almost a boil, then cover and reduce the heat to a simmer. Let simmer (almost bubbling), covered with the lid slightly ajar, 1 hour, stirring occasionally, until all vegetables are tender.

Add more salt and pepper to taste, if desired, and discard the bay leaf.