Baked Butternut Squash, Raisin and Pine Nut Lasagna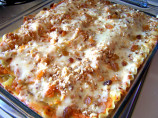 Photo by Rita~
Prep Time: 20 mins
Total Time: 1 hr 10 mins
Servings: 8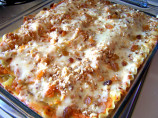 Photo by Rita~
About This Recipe
"This was one of my favorite Weight Watchers recipes and a nice variation on the standard red sauce lasagna. It is creamy and a bit sweet from the squash and raisins and oh so satifying. As presented here, it is a bit higher in points than the original (7 versus 6 points) but I think is a more appealing, creamier dish. Whether you are doing WW or not, you'll enjoy this one. I've also added 1/2 cup of part-skim ricotta (4 points total) to the middle layer at times with good success."
Ingredients
73.94 ml all-purpose flour

709.77 ml fat-free evaporated milk

2-3 medium garlic cloves, minced

78.07 ml grated parmesan cheese

0.59 ml table salt ( to taste)

0.59 ml white pepper ( to taste)

283.49 g dry lasagna noodles, cooked al dente ( about 12 noodles)

453.59 g cooked winter squash, mashed

236.59 ml part-skim mozzarella cheese, shredded

177.44 ml golden seedless raisins

29.58 ml pine nuts, chopped
Directions
Preheat oven to 350°F.

Prepare lasagna noodles as directed on the package.

To prepare the squash, peel and remove seeds, trimming into 1 or 2 inch cubes. Place in a pot of boiling water and cook until just tender. Remove water and mash by hand. (You can also do this in the microwave if you have one.)

Place flour in a small saucepan over low to medium heat and very gradually whisk in milk and garlic. Warm milk slurry, stirring constantly, until sauce simmers and is thickened, about 3 minutes. (It will continue to thicken in the baking so don't worry if it seems a bit thin at this stage.) Remove from heat and stir in Parmesan cheese, salt and pepper.?.

Spread 1/3 cup of cheese sauce over bottom of a 9 X 13-inch glass or metal pan and cover with 3 lasagna noodles; top with 1/3 of squash and 1/2 cup of cheese sauce. Sprinkle with 1/2 cup of mozzarella cheese and 1/4 cup of raisins. Cover with 3 more lasagna noodles and spread with 1/3 of remaining squash and 2/3 cup of cheese sauce; sprinkle with 1/4 cup of raisins. Cover with 3 more lasagna noodles and top with remaining squash and raisins; cover with last 3 lasagna noodles, pressing sheets firmly down. Top with remaining cheese sauce; sprinkle with pine nuts and remaining mozzarella cheese.

Cover lasagna with aluminum foil and bake for 15 minutes. Remove foil and continue baking until lasagna bubbles around edges and is browned on top, about 15-20 additional minutes.

Slice into 8 pieces and serve.