Healthy Breakfast Cookies and Bars - Fiber, Protein, and Fruit!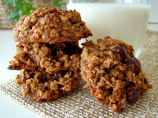 Photo by Marg (CaymanDesigns)
Prep Time: 10 mins
Total Time: 25 mins
Serves: 8, Yield: 24 cookies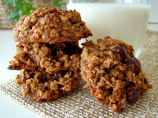 Photo by Marg (CaymanDesigns)
About This Recipe
"This recipe makes great cookies and even better bars. In its original form, following the recipe, it has a nice mild balance of oatmeal and apple flavours. Three cookies is one full serving of whole grains, and a full serving of fruit. It keeps at least a week without getting dried out (and then my four year old inhaled the last bar). I'm planning to try it again with cut up dried apricots and toasted sesame seeds. Try it out! (Found it in the Toronto daily "24 Hours" paper, October 3, 2005)"
Ingredients
2 cups bran flakes, crushed ( or substitute multi-grain flakes)

2 cups oatmeal

2 tablespoons wheat germ

1 1/2 tablespoons cinnamon

1/2 cup plain nonfat yogurt

1 cup unsweetened applesauce

1 teaspoon vanilla

1/3 cup honey

1 egg, beaten

1/2 cup skim milk powder

1 teaspoon baking soda

1 teaspoon baking powder

1/2 cup raisins
Directions
Preheat oven to 350°F.

Crush cereal, and place in a medium-sized mixing bowl. Add oatmeal, wheat germ, and cinnamon; set aside.

In a medium mixing bowl, combine yogurt, applesauce, vanilla, honey, beaten egg, and skim milk powder: mix well to combine.

Add baking soda and baking powder to the yogurt mixture. Mix well.

Gradually add the cereal and oatmeal mixture to the yogurt mixture and stir well.

Add raisins and mix to combine.

Scoop a heaping tablespoon of the batter and roll it into a ball. Place onto a non-stick cookie sheet, or lined with baking parchment, and lightly flatten.

Bake at 350°F for 15-18 minutes. Makes 24 cookies.