Mediterranean Fish Casserole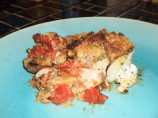 Photo by breezermom
Prep Time: 20 mins
Total Time: 40 mins
Servings: 4-6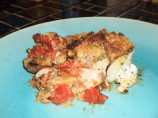 Photo by breezermom
About This Recipe
"A delicious fish casserole with mushrooms, tomatoes, basil and parmesan. You can add shrimps between fish roll-ups if desired."
Ingredients
700 g flat fish fillets ( 1 1/2 pounds, plaice, sole etc)

1/2 lemon, juice of

1/2 teaspoon salt

pepper

125 g cream cheese with herbs ( 4 1/2 ounces)

1 teaspoon chopped fresh oregano

250 g medium sized mushrooms ( 9 ounces, quarter)

4 medium tomatoes (deseeded, skin removed and roughly chopped) or 400 g canned tomatoes, drained and chopped ( 14 ounces)

1 tablespoon chopped flat leaf parsley

1 tablespoon chopped basil

shrimp (optional)

Provencal topping

3 tablespoons chopped flat leaf parsley

6 basil leaves, cut in fine strips

5 tablespoons dry breadcrumbs

5 tablespoons grated fresh parmesan cheese

2 tablespoons olive oil or 2 tablespoons butter

3 crushed garlic cloves
Directions
Fish:.

If your fish fillets are large, you need to cut them in half (vertically). They should be easy to be rolled.

Drizzle lemon juice over the fish. Season with salt and pepper. Spread the cream cheese onto the outer shiny side of fish.

Roll up fillets. Season with salt and pepper.

Vegetables:.

Into a buttered heatproof casserole add quartered mushrooms.

Place tomatoes on top of mushrooms.

Add 1 tbsp of parsley and 1 tbsp of basil to the tomatoes and mushrooms.

Place rolled fish on top of tomatoes and mushrooms.

Place optional shrimps between fish rolls.

Provencal Topping:.

Mix all ingredients except oil/butter.

Cover the fish with Provencal topping.

Drizzle with oil or sprinkle with butter flakes.

Bake for 20 minutes in a 220°C / 430°F preheated oven.

Serve with buttered boiled potatoes sprinkled with chives.