Barefoot Contessa's Orange Pound Cake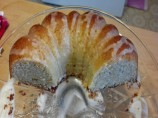 Photo by theosuperstar
Prep Time: 20 mins
Total Time: 1 hr 5 mins
Yield: 2 loaves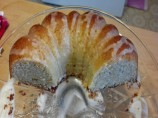 Photo by theosuperstar
About This Recipe
"This is just busting with great orange flavor. I have always been fond of citrus cakes."
Ingredients
1/2 lb unsalted butter, at room temperature

2 1/2 cups granulated sugar, divided

4 extra-large eggs, at room temperature

1/3 cup grated orange zest ( 6 oranges)

3 cups all-purpose flour

1/2 teaspoon baking powder

1/2 teaspoon baking soda

1 teaspoon kosher salt

3/4 cup freshly squeezed orange juice, divided

3/4 cup buttermilk, at room temperature

1 teaspoon pure vanilla extract
Directions
Preheat oven to 350°.

Butter and flour 2 loaf pans.

Cream butter and 2 cups of sugar in a bowl.

Mix in eggs, one at a time; add zest.

Sift flour, baking powder, baking soda and salt together.

In another bowl mix 1/4 cup orange juice, buttermilk and vanilla.

Add flour and buttermilk mixture aternately to the batter, beginning and ending with flour.

Divide between 2 pans and smooth the tops.

Bake for 45 minutes or until tester comes out clean.

Cool for 10 minutes.

Make syrup while cake is baking.

Syrup consists of remaining 1/2 cup sugar and 1/2 cup orange juice.

Cooks these two together over low heat till the sugar is desolved.

Spoon over cakes and then allow them to cool completely.

You may glaze these cakes (after cooling) with a simple glaze but I don't usually.