My Version of Blackened Chicken Pasta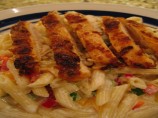 Photo by Babs7
Prep Time: 15 mins
Total Time: 45 mins
Servings: 4-6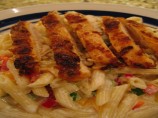 Photo by Babs7
About This Recipe
"This is a recipe that my dearest brother gave me a few years ago and I have added my own touch of spice to it. If you like garlic I believe you will enjoy this meal. It is a meal in itself all you need is some garlic bread or sticks!"
Ingredients
My spices used for sprinkling on chicken

1 teaspoon black pepper

1 teaspoon chili powder

1 teaspoon garlic powder

1 teaspoon salt

1 teaspoon paprika

1 teaspoon onion powder

1/2 teaspoon cayenne pepper

1/2 teaspoon white pepper

1/2 teaspoon thyme

1/2 teaspoon oregano

1/2 teaspoon sugar

1/4 teaspoon italian seasoning

1/4 teaspoon basil

1/4 teaspoon Old Bay Seasoning

1/4 teaspoon Accent seasoning

Chicken

2 -4 pieces chicken breast fillets

4 tablespoons butter, melted ( not margarine)

1/2-1 cup flour

4 tablespoons butter, chicken in ( for frying, not margarine)

For Making the pasta sauce

1/2 pint half and half milk

1/2 pint heavy whipping cream

1/2 cup butter ( 1 stick and not margarine)

3 -4 ounces minced garlic

6 -8 ounces parmesan cheese, grated

10 ounces corkscrew macaroni, cooked and drained

2 tablespoons red peppers, diced

2 tablespoons green peppers, diced

2 tablespoons yellow peppers, diced

2 tablespoons onions, dinced
Directions
Mix all dry seasonings together and put in a spice (bottle) shaker. Use as needed.

Cook noodles according to pkg. drain.

Dip chicken breast fillets in the 4Tbs. of melted butter and place on a flat surface and sprinkle my seasoning mix.(you don't use the whole jar of spice, just enough to cover chicken pieces).

Dip in flour and place in a hot iron skillet or hot pan with 4Tbs. of butter.

Fry until done, covering chicken to steam while cooking.

Meanwhile, add half and half and heavy whipping cream into a large pot and slowly heat over medium low heat.

Add 1/2cup (1 stick) of butter to the milk in the pot and stir well until butter is melted.

Add the 3-4oz. of minced garlic and stir until bubbly.

Remove from heat and add parmesan cheese and stir well.

In a bowl combine the noodles and onion,and bell peppers. Mix well and add milk/cheese mixture.

Stir until blended.

Cut chicken breast fillets into strips.

Serve noodles and sauce on platter with the fried chicken breast fillets on top.

Enjoy!