Pumpkin-Walnut Praline Bars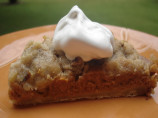 Photo by Chef Mommie
Prep Time: 30 mins
Total Time: 1 hr 20 mins
Yield: 16 bars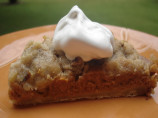 Photo by Chef Mommie
About This Recipe
"These bars have a pumpkin pie filling and are terrific smothered in the buttery, nutty praline topping. Adapted from Food&Wine magazine(Oct. 2005). Enjoy! This is definately a Southern recipe, using pecans which are grown in Georgia!"
Ingredients
Pastry

Filling

3 large eggs

2/3 cup light brown sugar

1 teaspoon cinnamon

1 teaspoon pumpkin pie spice ( cinnamon, ginger, nutmeg, allspice, mace and cloves)

1 (15 ounce) cans solid pack pumpkin

1/2 cup evaporated milk

Topping

1 cup walnuts, chopped ( 4 ounces)

1/4 cup white flour

1/2 cup light brown sugar

4 ounces unsalted butter, softened
Directions
Make the Pastry:.

In food processor, combine the flour with the sugar and salt. Add the pieces of cold butter and pulse until they resemble small peas. Add the ice water and pulse just until the dough is slightly moistened. Turn the dough out onto a lightly floured work surface and knead it serveral times, until it comes together. Flatten the dough into a flat circle, wrap it in plastic and refrigerate until chilled, about 30 minutes.

Preheat oven to 350*F. Butter a 9"x13" glass baking dish. On a lightly floured work surface, roll out the pastry to an 11"x15" rectangle, about 1/8" thick. Trim the pastry to a 10"x14" rectangle. Roll the pastry around the rolling pin and carefully unroll it in prepared baking dish, easing it into the corners. Line the pastry with aluminum foil and fill with dried beans. Bake the pastry for 20 minutes, or until it is lightly browned and just set. Remove the foil and beans. Bake for 8 to 10 minutes longer, until the pastry is cooked through but not browned.

Make the filling:.

In a medium bowl, whisk the eggs with the light brown sugar, cinnamon and pumpkin-pie spice. Add the pumpkin puree and whisk until smooth. Whisk in evaporated milk until the filling is blended. Pour the filling into the prebaked crust and smooth the surface. Bake for about 20 minutes, until the filling is set around the edges but very wiggly in the center.

Make the Topping:.

In a medium bowl, toss the walnuts with the flour and brown sugar. Add the butter and stir until combined. Drop tablespoons of the topping onto the partially baked pumpkin layer. Bake about 20 minutes longer, until the topping is sizzling and golden and the pumpkin filling is just barely wiggly in the center. Let it cool completely, and cut into 16 bars. Enjoy!

Note: the bars can be refrigerated up to 3 days.