Braised Lamb Ragu With Penne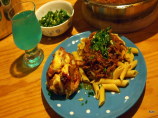 Photo by Satyne
Prep Time: 25 mins
Total Time: 1 hr 55 mins
Servings: 6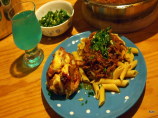 Photo by Satyne
About This Recipe
"If you love lamb, then try this dish, it is a fantastic dinner to serve to guests, or of coarse family, as it is so easy to make! I promise you will get rave reviews on this dish! This dish has lots of sauce, when I made it I simmered the sauce separately in a small saucepan for about 25 minutes to reduce slightly after the complete dish was cooked, but that is only optional, also if you have any leftover sauce, you can freeze it."
Ingredients
1 lb penne pasta ( can use more less, as desired)

1/3 cup oil ( or more or less as needed)

6 -8 lamb shanks

2 onions, chopped

1 1/2 lbs small button mushrooms ( can use more or less)

1 -2 tablespoon chopped fresh garlic

1 teaspoon dried basil ( or to taste, can use about 3-4 tablespoons fresh chopped basil)

1 teaspoon dried rosemary ( or to taste)

crushed red pepper flakes

1/2 cup dry white wine

3 1/4 cups beef broth

3 teaspoons Worcestershire sauce ( or to taste)

1 1/2 cups crushed tomato puree

salt and pepper

grated parmesan cheese
Directions
Set oven to 325 degrees.

Cook the penne in boiling water until JUST firm-tender, drain and transfer to a bowl (do not rinse with water) toss with 2-3 tablespoons oil and set aside, this can be done before, during or after you cook the lamb shanks).

Heat oil in a Dutch oven over high heat.

Rub oil lightly on the lamb shanks and then season them with salt and pepper.

Add to the pot and brown evenly on all sides (this should take about 10-12 minutes).

Transfer the lamb to a platter.

Add in chopped onions, garlic, mushrooms, basil, rosemary and crushed red pepper flakes; saute until the veggies are tender (about 7-9 minutes).

Return the lamb to the pot.

Add in wine and bring to a boil; simmer for about 6-8 minutes.

Add in beef broth, Worcestershire sauce and crushed tomatoes and return to a simmer.

Season with salt and pepper to taste.

Cover the pot and transfer to the oven.

Cook for about 1-1/2 hours, or until meat is desired tenderness.

At this point you can remove the meat from the bones and return the meat to the sauce, or just serve the bone with the meat on them with the sauce.

Serve the sauce over cooked pasta, and sprinkle with grated Parmesan cheese.

Delicious!